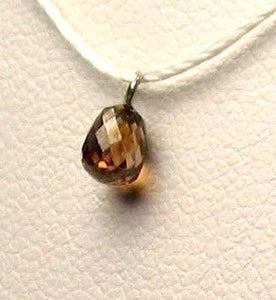 RARE!! SHIMMERING NATURAL CHAMPAGNE/BROWN Diamond BEAD on 18K White Gold hoop! 0.53 Carats!

Here it is! What you have been searching for! Natural Champagne/Brown Diamond Faceted Briolette Bead. This Diamond bead measures 4.25x3.5x3mm and will make a stunning pendant or centerpiece. The color of this Diamond bead is an absolutely stunning Natural Champagne/Brown! This is a natural champagne Diamond that does have slight imperfections.

You'll fall in LOVE with this enchantingly elegant bead!!! It has not been treated in any way!

This is a NATURAL Champagne / Brown Diamond.

NOTE: You will receive the Diamond bead pendant imaged.

NOTE: Images do not reflect number and size. Please see detail and table for information.

Quantity: 1 bead - 0.53 carats
Material Type: Diamond 18K White Gold
Size: 4.25x3.5x3mm Diamond, 2.75mm hoop
Color: Natural champagne/brown
Legend: Diamonds are said to access the highest good for all areas!
Origin: India - all of our diamonds are ethically sourced from reputable dealers.