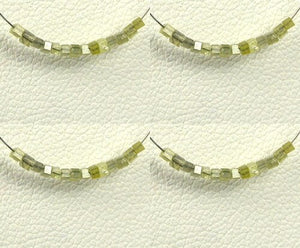 RARE Natural Diamond Faceted Cube Beads - .58 carats!

Here it is! What you have been searching for! These natural Diamond beads have been cut into a faceted cube that sparkles and shines! The color of these natural Diamond beads ranges from a platinum grey to a champagne brown to a wonderful canary yellow! These Diamond beads measure 2x2x2mm and will make a stunning addition to any collection.

You'll fall in LOVE with this enchantingly elegant stone!!! These are natural Diamond beads!

NOTE: Images do not reflect number and size. Please see detail and table for information.

Quantity: 3 beads - .58 carats
Material Type: Natural Diamond
Size: 2x2x2mm
Color: Platinum, Champagne, Canary
Legend: Diamonds are said to access the highest good for all areas!
Origin: India - all of our diamonds are ethically sourced from reputable dealers.