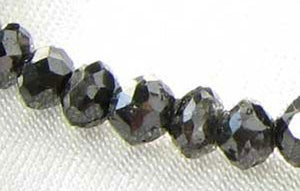 ONE RARE NATURAL BLACK Diamond Faceted Bead!

Here it is! What you have been searching for! A Superbly faceted exquisite Genuine Black Diamond Bead!!! These Diamond beads will make a stunningly elegant addition to any collection. These beads are drilled for stringing but the hole is not large enough to fit over a chain. These beads have an amazing metallic sheen that glimmers!

You'll fall in LOVE with this enchantingly elegant bead!!! This is for a NATURAL BLACK Diamond Bead. It has not been treated in any way!

BLACK DiamondS also known carbonados. Supporters of an extraterrestrial origin of carbonados, such as Dr. Stephen Haggerty, a geoscientist from Florida International University, propose that their material source was a supernova which occurred at least 3.8 billion years ago. After coalescing and drifting through outer space for about one and a half billion years, a large mass fell to earth as a meteor approximately 2.3 billion years ago, possibly fragmenting during entry into the Earth's atmosphere, and impacting in a region which would much later split into Brazil and the Central African Republic, the only two known locations of carbonado deposits. Imagine wearing a Gem that is 3.8 billion years old!

Quantity: 1 bead
Material Type: Natural Black Diamond
Size: .43 cts (4x3mm to 4.75x4mm)
Color: Black
Legend: Diamonds are said to access the highest good for all areas!
Origin: Brazil - all of our diamonds are ethically sourced from reputable dealers.