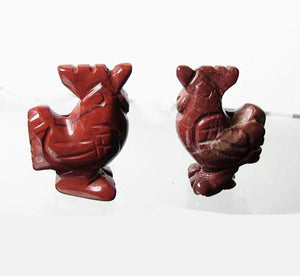 Hand Carved Brecciated Jasper ROOSTER Beads!

Cocka-doodle-doo! This is for TWO hand carved Brecciated Jasper ROOSTER Beads! These beads are drilled head to foot.

The Chinese years of the cock are 1921, 1933, 1945, 1957, 1969, 1981, 1993, 2005, 2017, 2029.
People born in the year of the cock are deep thinkers and ambitiously motivated.
These are hand carved natural Brecciated Jasper rooster beads

NOTE: Images do not reflect number and size. Please see detail and table for information.
NOTE: Your beads will be selected from those imaged.
QUANTITY: Beads
MATERIAL TYPE: Jasper
SIZE: 21x16x8.5mm
HOLE SIZE:
COLOR: Red
LEGEND: Jasper is said to be a general overall physical, spiritual and emotional enhancer!
ORIGIN: China
SKU: 009296BJ