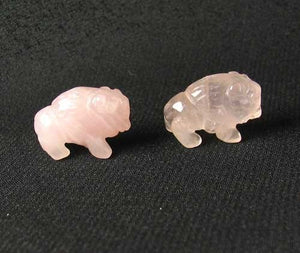 STURDY!! ROSE QUARTZ STONE Carved Buffalo / Bison Beads!!

This is for two (2) Hand carved ROSE QUARTZ Buffalo / Bison Beads! The Bison is like a hologram - one example of abundance - it's behemoth features are a physical manifestation of the store-holds available in the energetic realms. These beads are drilled back to belly.

These are hand carved natural ROSE QUARTZ Bison / Buffalo beads.

NOTE: Images do not reflect number and size. Please see detail and table for information.
QUANTITY: Beads
MATERIAL TYPE: Rose Quartz
SIZE: 21x14x8mm
HOLE SIZE:
COLOR: Pink
LEGEND: ROSE QUARTZ is said to balance the emotions, thus giving inner peace and harmony!
ORIGIN: China
SKU: 009277RQ