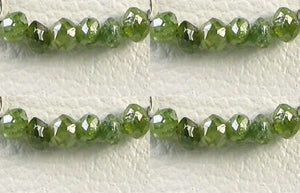 RARE Parrot Green Diamond Faceted Roundel Beads!

Here it is! What you have been searching for! Superbly faceted exquisite Genuine Parrot Green Diamond BEADS (0.26 carats)!!! These Diamond beads measure from 2x2mm and will make a stunningly elegant addition to any collection. These Diamonds are conflict-free and they have been irradiated for permanent color enhancement.

You'll fall in LOVE with these enchantingly elegant BEADS!

NOTE: Images do not reflect number and size. Please see detail and table for information.

Quantity: 4 beads - 0.26 carats
Material Type: Diamond
Size: from 2x2mm
Color: Parrot Green
Legend: Diamonds are said to access the highest good for all areas!
Origin: India - all of our diamonds are ethically sourced from reputable dealers.