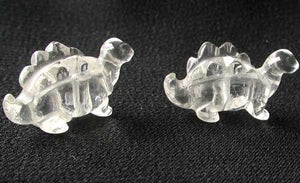 CHARMING! QUARTZ Carved STEGOSAURUS Beads!!

This is for two (2) Hand carved Natural QUARTZ STEGOSAURUS Beads! These beads will add that touch of whimsy to your designs or make a perfect pair of earrings for any DINOSAUR lover! These beads are drilled through the body.

NOTE: Images do not reflect number and size. Please see detail and table for information.
QUANTITY: Beads
MATERIAL TYPE: Quartz
SIZE: 21x11x8mm
HOLE SIZE:
COLOR: Clear
LEGEND: Quartz clarifies and amplifies energy!
ORIGIN: China
SKU: 009258QT