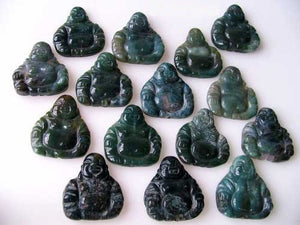 HUGE EXOTIC!! Rare Fancy JASPER Hand Carved Buddha Bead!!

This is for one FANCY JASPER Bead!! This bead is wonderful for adding character and charm to your custom pieces!! This Fancy Jasper is a dark green with touches of mossy green and white! This bead is drilled from crown chakra (head) to the base chakra (bottom of belly).

This is a natural fancy jasper bead!!

NOTE: Your bead will be selected from those imaged.

NOTE: Images do not reflect number and size. Please see detail and table for information.
QUANTITY: Beads
MATERIAL TYPE: Jasper
SIZE: 33x30x7mm
HOLE SIZE:
COLOR: Blue Green
LEGEND: Jasper is said to be a general overall physical, spiritual and emotional enhancer!
ORIGIN: China
SKU: 10216F