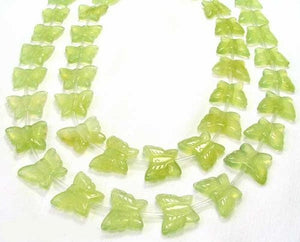 BEAUTIFUL Serpentine Butterfly beads!

This is for two (2) Serpentine Beads. These beads are wonderful. This serpentine has been hand carved into wonderful butterfly beads!

Let these butterflies life your spirits and float you away! These natural serpentine beads !

NOTE: Images do not reflect number and size. Please see detail and table for information.
NOTE: Your two beads will be selected from those imaged.
QUANTITY: Beads
MATERIAL TYPE: Serpentine
SIZE: 15x19x5mm-19x21x5mm
HOLE SIZE:
COLOR: Green
LEGEND: Serpentine is said to bring wealth and joy to the wearer!
ORIGIN: China
SKU: 009240sp