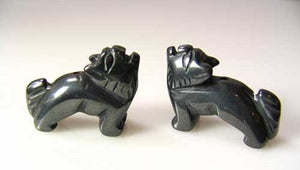 HEMATITE HOWLING WOLVES for jewelry making!

This is for two hand carved HEMATITE Wolf Beads. The hand carving is exquisitely executed. These beads of lovely HEMATITE will add beauty and uniqueness to any piece. Wolves communicate with each other more by harmony and integration rather than by aggression and submission. HEMATITE is reflective and thus protective as well as a light bringer. Let this piece guide you in connecting you to your inner animal nature or to your animal guide. These are drilled through the tummy and out through the back.

NOTE: Images do not reflect number and size. Please see detail and table for information.
 
QUANTITY: Beads
MATERIAL TYPE: Hematite
SIZE: 22x16x8mm
HOLE SIZE:
COLOR: Silver black
LEGEND: Hematite reflects and brings light into one's life!
ORIGIN: China
SKU: 009272HM