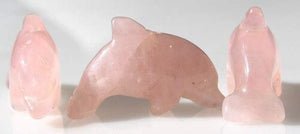 Hand Carved Rose Quartz Crystal DOLPHIN Beads!

This is for two (2) hand carved Rose Quartz DOLPHIN Beads! These beads are clear with sparkling veils!! Rose Quartz is said to bring universal love to the wearer! What a powerful combination with the joyfulness of a jumping dolphin!!! These beads are drilled through the body.

NOTE: Images do not reflect number and size. Please see detail and table for information.
QUANTITY: Beads
MATERIAL TYPE: Rose Quartz
SIZE: 25x11x8mm
HOLE SIZE:
COLOR: Pink
LEGEND: ROSE QUARTZ is said to balance the emotions, thus giving inner peace and harmony!
ORIGIN: China
SKU: 009262rq