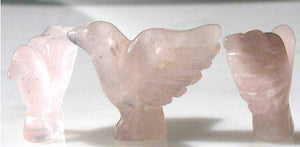 TWO GRACEFUL Carved ROSE QUARTZ Dove Bird Beads!!!

This is for 2 Carved ROSE QUARTZ Bird Dove Beads! The beads are perfectly cut and beautifully carved!! Let these enter you life to give you an overall energy lift and help you complete pending projects!! Don't miss these!

This is hand carved natural rose quartz. Doves have long been the symbol for prosperity and two doves are a symbol of devotion and love. Let this lovely pair float into your life. These lovely beads are drilled vertically through the body.

NOTE: Images do not reflect number and size. Please see detail and table for information.
QUANTITY: Beads
MATERIAL TYPE: Rose Quartz
SIZE: 18x18x7mm
HOLE SIZE:
COLOR: Pink
LEGEND: ROSE QUARTZ is said to balance the emotions, thus giving inner peace and harmony!
ORIGIN: China
SKU: 009253RQ