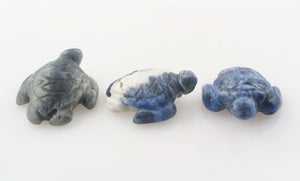 CARVED! Two SODALITE Sea Turtle BEADS!

This if for TWO (2) hand carved Natural Sodalite Sea Turtle Beads!! Let these adorable beads add the wonder of nature to your custom pieces!! These are drilled head to tail.

These are natural hand carved sodalite animal beads!

NOTE: Images do not reflect number and size. Please see detail and table for information.

NOTE: Your two beads will be selected from those imaged.
QUANTITY: Beads
MATERIAL TYPE: Sodalite
SIZE: 22.5x18x7.5mm
HOLE SIZE:
COLOR: Blue white
LEGEND: Sodalite is believed to eliminate confusion and help the wearer arrive at clarity!
ORIGIN: China
SKU: 009276sd