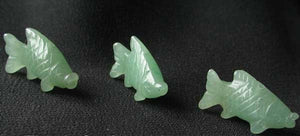 WONDEROUS! 2 Carved Aventurine Animal Fish BEADS!

This is for two hand carved Aventurine Fish Beads. The hand carving is exquisitely executed. These beads of lovely Jasper will add beauty and uniqueness to any piece. Don't miss out on these charming beads!!

NOTE: Your beads will be similar to those shown. These beads are drilled top to bottom.

NOTE: Images do not reflect number and size. Please see detail and table for information.
QUANTITY: Beads
MATERIAL TYPE: Aventurine
SIZE: 23x11x8mm
HOLE SIZE:
COLOR: Green
LEGEND: AVENTURINE is said to relieve anxiety and calm one's emotions!
ORIGIN: China
SKU: 9265AV