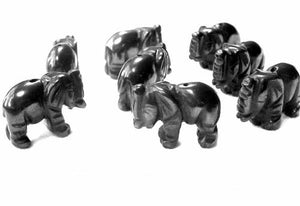 WILD!! 2 Carved Hematite ELEPHANT Bead!!

This is for two NOBLE hematite ELEPHANT Beads! The beads are beautifully carved and drilled through the middle!! Let these enter you life to give you an overall energy lift and as an guide on your spiritual path!! The elephant is also a symbol of Strength, Wisdom, Solitude, family loyalty, and Intelligence.

NOTE: Images do not reflect number and size. Please see detail and table for information.
QUANTITY: Beads
MATERIAL TYPE: Hematite
SIZE: 22.5x21x10mm
HOLE SIZE:
COLOR: Silver black
LEGEND: Hematite reflects and brings light into one's life!
ORIGIN: China
SKU: 009264hm